Trex Decks Offers Environmentally Friendly Options in Shorewood
The Village of Shorewood, IL grew out of its origins as a resort community to become a perfect place for families. Located at the intersection of I-80 and I-55, Shorewood residents are only a short commute away from Chicago. Its town center features a splash park, bandstand, and numerous paths to explore on a series of gorgeous lakes. After enjoying the day with your family in Shorewood, it is a great time to enjoy an evening of entertainment on your backyard deck. Wolf Spirit Decks is a Trex deck contractor and thinks you might want to explore this option if you are building a new deck or upgrading an old one.
What Are Trex Decks and why they are so popular in Shorewood?
Trex is a leader in composite deck material, and we have a team of factory-certified installers. Whether you are building new or need to replace a wooden deck, Trex composite deck materials are a popular choice. Trex decks are environmentally friendly options that consist of compressed reclaimed sawdust wrapped in a 95% recycled plastic film. Our company also uses earth-friendly manufacturing processes that have the least possible impact on the environment.
Shorewood Trex Deck Advantages
Wooden deck material is the traditional choice, and many homeowners are not aware that they have other options. Composite deck material has a few advantages over wood. Initially, wood decks might be the cheaper choice, but they can cost you in the long run. Composite decks need minimal maintenance when compared to wood decks. They resist stains, rot, and cracks. Trex Decks are a low-maintenance option and can be cleaned with only a little soap and water.
Wood decks need seasonal staining or painting to keep them looking pristine. You do not have to do this with Trex composite deck material. Also, insects will attack wood decks, but the plastic coating on Trex decking prevents this type of damage. Another advantage is that Trex decks are more barefoot-friendly because they will not splinter or split. Wood decks can be expected to last 20 years or more if properly maintained. Trex Decks can last much longer without the maintenance.
Shorewood Deck Design Inspiration
These are some of the reasons why people choose Trex Decks, but you also have many more design options than wood. Trex offers several collections, including the Transcend Lineage, Transcend, Select and Enhance series. You can choose options that look like natural wood, like Spiced Rum or Vintage Lantern in the Transcend line. You can also choose a modern look, like Biscayne and Ranier in the Transcend Lineage line.
You can choose from over 20 colors and patterns, which gives you many options for custom designs. Trex offers everything you need to design your project with the assistance of one of our pros. They also offer railing, fascia, cladding, outdoor lighting options, deck drainage systems, and lattice skirting. You can also purchase Trex outdoor furniture, fencing, and cornhole games. You might want to add a spiral staircase or pergola for a luxury look. The best way to get ideas is to contact one of our pros and take a look at our gallery of past projects in the Chicago area.
Dedicated Shorewood Trex Pro Deck Contractor
Wolf Spirit Decks is a deck builder serving the Shorewood and Chicagoland area. We can build a new wood deck, composite deck, or perform deck resurfacing to restore your existing deck to like-new condition. Contact us, and we can help you explore your options with TrexPro Decks.
Discover Decks… Discover Wolf Spirit Deck
---
Tell us a little about project and we will be in touch with you promptly.
Wolf Spirit Deck
14447 Independence Dr
Plainfield, Illinois 60544
Tel: (312) 765-3998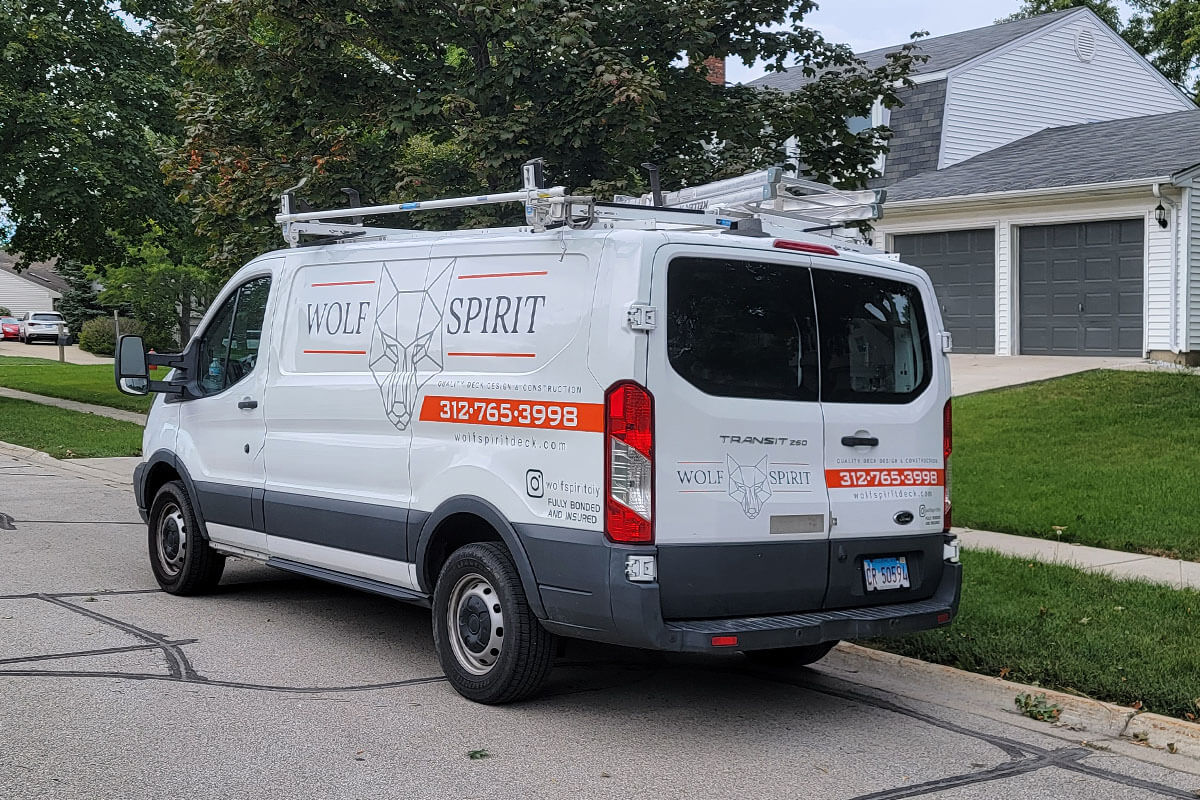 Send Us a Message
---
We would love to hear about your project! Whether it's a new custom-built composite deck, new wooden deck, pergola, or deck resurfacing as a custom deck builder and luxury deck lighting specialist, we eagerly await the opportunity to collaborate with you on your exciting project!