Plainfield, IL, is a beautiful village on the outskirts of Chicago, about 30 minutes from the big city. It has a small-town feel, plenty to do for families, and a wealth of opportunity. Many people choose to move to Plainfield because of the beautiful natural settings and homes in the area. You can find homes that feature suburban settings with big backyards that are perfect for a deck or pergola. Wolf Spirit Deck has over 10 years of experience serving the community and northwestern Chicago suburbs. Let's see what they can do for you.
Deck Resurfacing and Deck Repair
If you already have a deck that might have seen better days, you have several options that are cost-effective and will make your deck look new. Deck resurfacing is one option that we offer. This is the perfect solution if your deck has peeling paint or is faded and grayed. It can also remove surface blemishes and scratches, and it can help level boards that have curled.
Before your deck can be resurfaced, our technician will perform an inspection to make sure that all the structural components are sound. If you need deck repair before the resurfacing can be done, our team will take care of anything that needs to be fixed. This is an excellent solution for those who do not need deck installation or new construction.
New Deck Installation
If you do not have a deck, or you have one that is too far gone to repair, we also offer new deck installation. We offer traditional wooden decks and those made from newer composite deck material. Both options have advantages and disadvantages.
One of the advantages of a wooden deck is that it is lower cost than composite deck material. Some people love the look and feel of natural wood and will have nothing else. Wood decks can last a long time, as long as you keep them properly maintained.
Many are now choosing composite deck material. This is a long-lasting material with a lifespan that can extend up to 25 years. It is made to have a natural wood look, and it is resistant to stains and scratches. Composite decking also comes in a wide range of colors. It also does not require the upkeep and maintenance of wooden decks.
Why Wolf Spirit Deck in Plainfield
You have many choices when it comes to your backyard deck or installing a feature like a pergola. If you are not sure which choice is right for you, the professionals at Wolf Spirit Deck will be happy to take a look at your property and give you some advice on what might work well for your backyard.
Our professional team will take a look at your existing deck and let you know if resurfacing or repair is a possibility, but if you need a new one, they will help you design the deck of your dreams. We are a trusted deck contractor in the Plainfield, Illinois area, and much of our new business comes from referrals from satisfied customers. Contact us, so that we can get started helping you build a deck that will transform your yard into a beautiful space for relaxation.
Discover Decks… Discover Wolf Spirit Deck
---
Tell us a little about project and we will be in touch with you promptly.
Wolf Spirit Deck
14447 Independence Dr
Plainfield, Illinois 60544
Tel: (312) 765-3998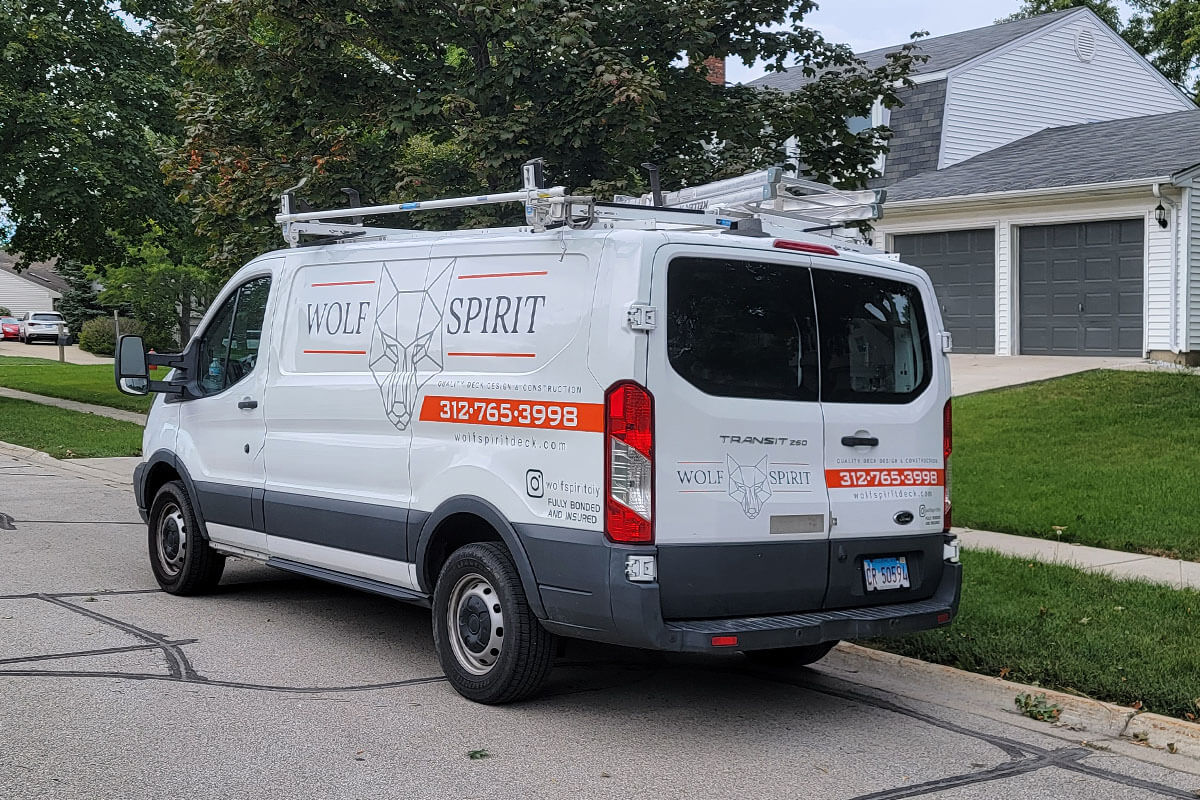 Send Us a Message
---
We would love to hear about your project! Whether it's a new custom-built composite deck, new wooden deck, pergola, or deck resurfacing as a custom deck builder and luxury deck lighting specialist, we eagerly await the opportunity to collaborate with you on your exciting project!