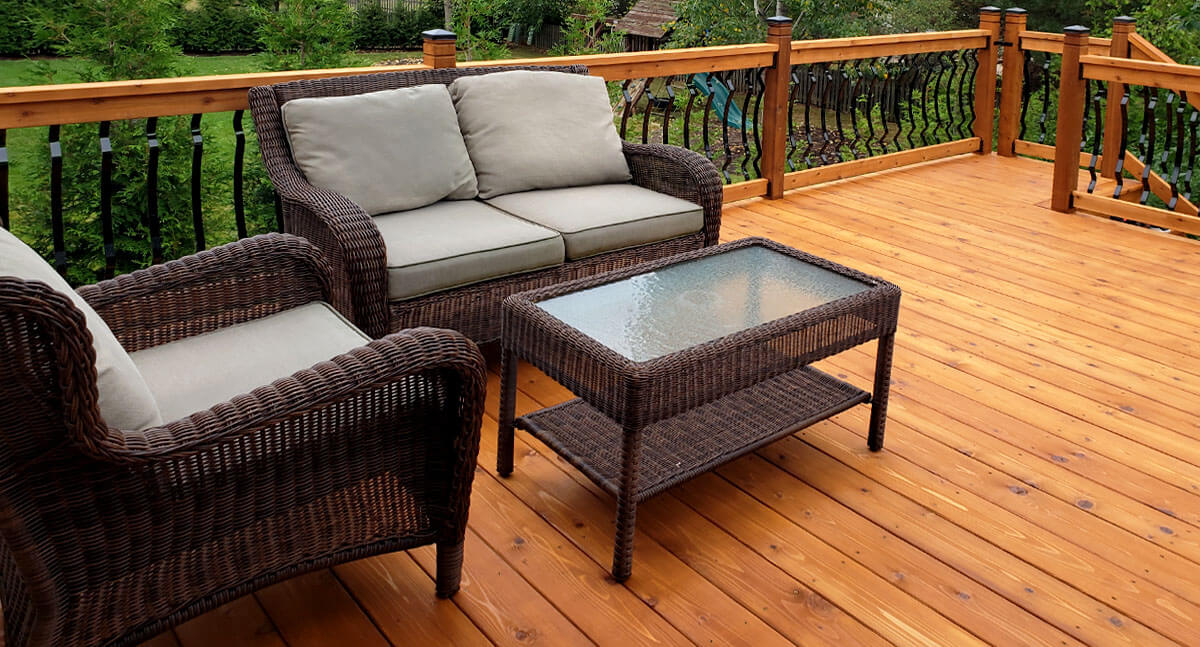 New Wooden Deck
---
Although there are many excellent composite materials available, many homeowners still like the natural look of real wood. Wood is the traditional material for decks and is a versatile landscaping feature that will complement almost any home architectural style. It can be used to create an outdoor dining space, seating space for company, or used beside a pool or hot tub.
You can choose a wood that is consistent with your other landscaping materials for a balanced and consistent style throughout your backyard. One of the things that many homeowners like about natural wood is that no two pieces look alike, and this creates variations in color that give it an artistic quality.
Natural wood decking comes in two different types: softwood and hardwood. Softwood decking is from species such as pine, cedar, and spruce. Softwood is less dense than hardwood and will need to be treated with a preservative if you choose this option. The wood itself is cheaper than hardwoods, but the maintenance and upkeep will usually have to be done every couple of years.
You will also have to reapply a sealant regularly to keep it looking new and prevent cracking and splitting. A properly sealed and maintained softwood deck can last about 25 years. One of the reasons why people choose softwoods is because they often give the deck a rustic character.
Hardwoods come from broadleaf trees such as oak, maple, elm, birch, teak, and cherry. The wood grain in these trees is dense and durable. They come in many attractive colors but still need to be sealed and maintained. They are often much more expensive than softwoods, but they have character and give the deck an elegant look.
There are many different grades of hardwood deck materials. For instance, you can choose heartwood, which is exceptionally dense and resistant to rotting and insect damage. You can also choose exotic hardwoods that provide almost endless possibilities for design.
This is one of the most common choices by homeowners because they insist on the look that only natural wood can give. You can also have custom chairs, railings, seating, and other accessories designed to match. Wood is an excellent choice for a raised deck that is off the ground and away from moisture.
If you want to choose an option that is more dimensionally stable and resistant to cracking, you might want to choose a tropical hardwood. They are a little more expensive, but they come in many beautiful wood grain patterns. Tropical hardwoods can generally last a little longer than North American species, which can help to offset the initial cost. Redwood and red cedar are other popular choices for decking because they contain tannins that are resistant to insects and decay.
One of the reasons why many customers choose natural woods is because they have so many choices, and it is a traditional material. Wolf Spirit Deck can help you design a natural wood deck that has a unique look and will last a long time. The only thing you need to bring is your ideas and imagination, and we will do the rest. It is time for you to start planning your dream deck so that you can enjoy all the seasons that Chicago has to give.