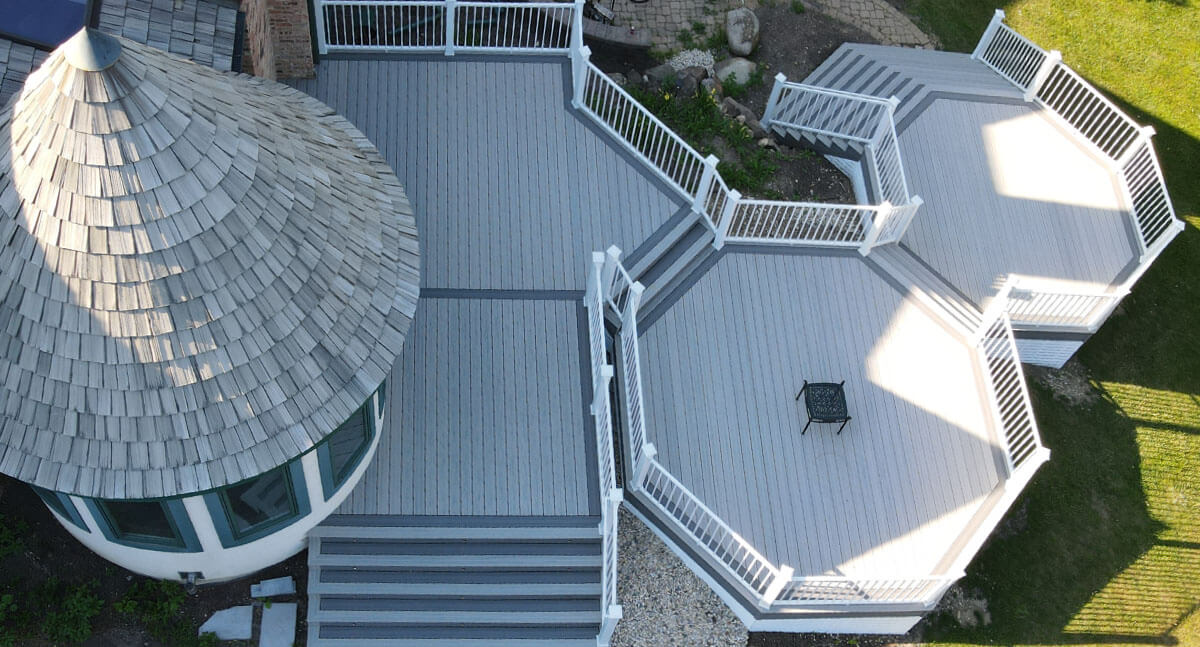 New Composite Deck
---
A new composite deck is an excellent way to create the perfect outdoor space. If you have always dreamed of having a BBQ, chiminea, or an area for gathering with friends, new composite wood is an excellent choice for many homeowners. Many people who are thinking about replacing a worn-out wood deck choose composite decking for its durability and ease of installation.
One of the reasons why many people choose composite deck material is because it is weather resistant and can easily withstand Chicago winters without cracking or splitting. It also does not tend to curl or shift when the temperature changes.
The material is made of a binding agent, plastic, and wood fiber. Many of the newer designs are so close to real wood in appearance that you can hardly tell the difference. Composite decking is a long-lasting material, and most people can get at least 15 years from it before it starts to look worn out or fade. It will look new and add beauty to your home for many years to come.
Another reason why people choose composite decking is that it is easier to maintain compared to natural wood. All you need to do is to clean it regularly with soap and water to keep it looking like new all year long. One of the problems with natural woods is that they tend to crack, fade, and create splinters over time. None of these issues is a problem with composite decking.
Composite deck material can be softer than wood and can be scratched by animal nails and dropping things. The difference is that with composite decking, the color goes all the way through the material, so there is no need to continually repaint it or apply more stain. The scratches do not show. You have many choices in railings and features that allow you to have a look from traditional to modern.
Composite decking can be a little pricier when compared to wood or timber decking, but this cost is offset by its durability and longevity. This money is made up because there is no need to paint, sand, stain, and seal the decking many times over its lifespan. Once it is installed, all you have to do is enjoy it.
Composite decking comes in a variety of custom colors that include browns, grays, dark wood tones, and lighter colors. You can choose from traditional high-definition wood grain patterns in rich, saturated colors, or you can choose from tones that include spicy reds and those that look like exotic hardwoods. You can find a wide range of composite accessories available, such as stairs, gates, railings, and furniture to create your custom outdoor space.
One of the things to consider is that composite decking is much heavier than natural wood. Composite decking lasts for a long time and stays looking new for many years, but when it does begin to show its age, it must often be replaced and cannot simply be resurfaced like natural wood. Composite decking does not swell when it gets wet, and it is not sensitive to temperature changes.
Another consideration when choosing composite decking is that many times, it is made from recycled materials. Many manufacturers use recycled plastic, such as shopping bags, newspaper sleeves, and industrial wood scraps. Because of this, it has a lower environmental impact than natural wood.
Many composite decking brands come with an extended warranty. Wolf Spirit Deck has many options available when it comes to designing a custom composite deck for your home. Give us a call so that we can discuss your next project.