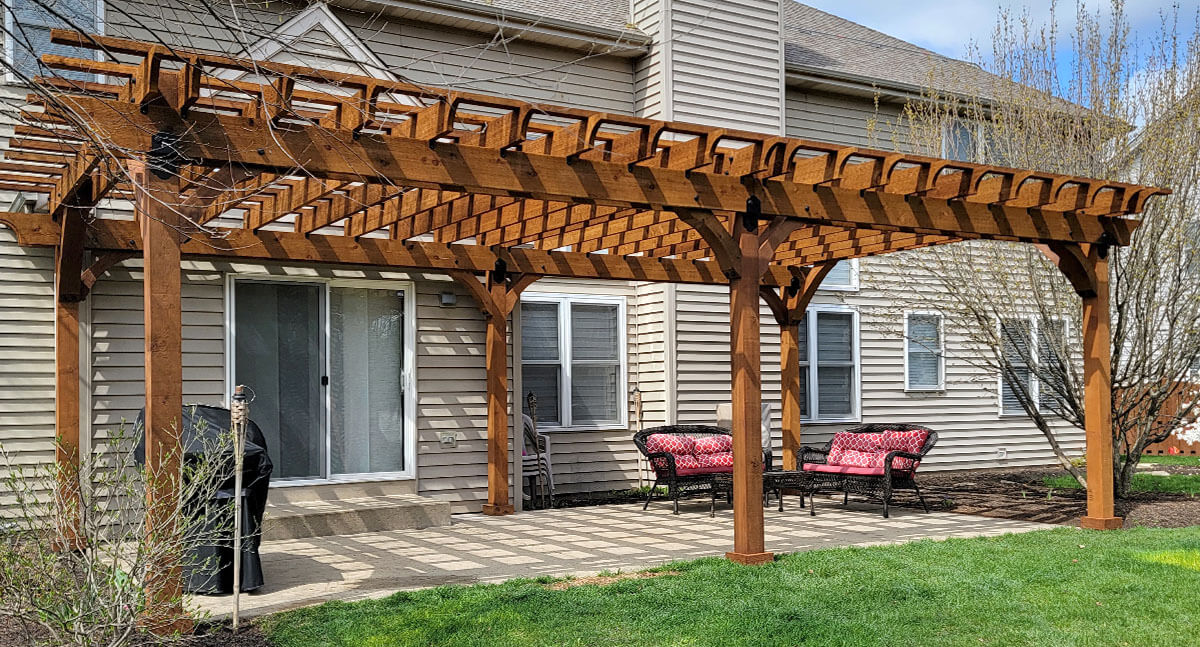 Pergola
---
A pergola is an addition to your backyard that can take it to the next level. A pergola allows you to maximize the usable outdoor space by adding an area that is somewhat protected from the elements. You can choose a freestanding design, or you can have one installed over your deck.
You can design a pergola to add as much shade or let in as much sunlight as you wish by varying the angle and spacing of the rafters. Many times, this choice depends on how much natural light or shade the area already has. Our professional team of designers can give you several options that will take advantage of the natural features that your backyard has to offer.
A pergola is an excellent way to add a feature to your garden, hang plants, or support vines, such as grapes or flowering vines. Pergolas come in many different styles, sizes, and materials. They also come in a range of prices. You can choose from a rough sawn, or hand-hewn wood, or you can choose one that has an elegant and sophisticated look.
Many people choose to install a visor for pergola over their garage door, doors, or windows. This can help shelter windows from the sun and is a beautiful way to cut down on heating costs. One option that many homeowners choose is to use pergolas to support a swing or provide an area for reading and enjoying company.
A pergola makes your backyard space feel a little more intimate and inviting. A pergola offers cool shade in the summer and can be used to shelter an outdoor living or dining area. It is also an excellent way to add shade to an outdoor kitchen or cocktail bar.
You have many choices in materials that include traditional hardwoods and softwoods for a traditional look. Cedar is a popular choice because of its weather resistance and resistance to rot and insects. Another option that gives the home a modern look is an aluminum pergola. Aluminum pergolas are often powder coated, so you find one that fits your landscaping and home perfectly.
Another option that many homeowners are beginning to choose is designing a pergola that can support solar panels. Now, you have so many choices in pergola designs and possibilities that making up your mind will probably be the most difficult task you have. You can go online for ideas, and when you are ready, you can give our professionals a call, and we can help you choose something right for your home and your lifestyle.