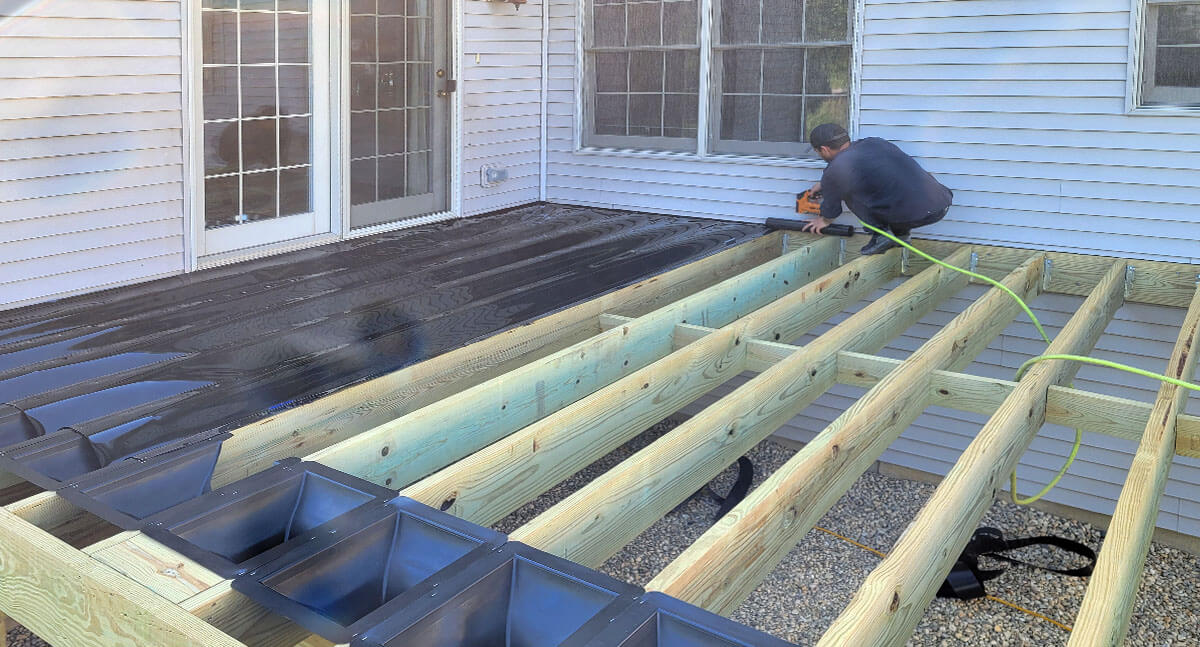 Frequently Asked Questions
---
Here are some of the most frequently asked questions that our customers ask.
1How long should I expect deck resurfacing to take?
Deck resurfacing can usually be completed in three and five days depending on the extent of the work and the size of the deck.
2Can I waterproof my new wood deck immediately?
Once the deck has been installed, it takes some time for the wood to cure and settle. You should wait a few months before applying a sealant. In summer, we recommend waiting between one or two months after the installation depending on the weather. In the fall, we recommend waiting between four and six months or until spring.

It is a good idea not to wait too long because the wood could crack because it becomes too dry if a sealant is not applied. Once your deck is installed, we are here to assist with any questions you might have about how to care for your deck and make it last a long time. Feel free to call us if you have any questions about how to care for your new or resurfaced deck.
3What type of sealant should I use on my new deck?
There are many types of sealants available on the market today. The type that is recommended depends on whether your deck is softwood or hardwood and the weather conditions. We can recommend the right sealant to use on your deck depending on these factors.

Keep in mind that there are many different sealants available on the market, and not all of them will bead when the deck becomes wet, but that does not mean that they are not protecting your deck from water damage. You should always apply any sealant according to the manufacturer's directions, and you can always call us if you have any questions. Sealants are important because they protect her deck and will help it last for a long time.
4Should I strip my new deck before applying a sealant?
If you have bare wood, it is best to do a pressure washing on the wood before you seal it. This will help remove any mold, dirt, or other particles so that you do not seal them into the wood permanently when you apply the sealant. We recommend applying the sealant according to the manufacturer's directions. It is often best to apply two to three coats as recommended.
5How do I know whether to resurface my deck or have a new one installed?
If you have an old deck that has seen better days, you might want to know if you can resurface it or if you need a new one. The answer to this question depends on whether there is any structural damage to the deck or wood. If your issue is a little bit of chipping paint or your wood just looks dull and gray, then resurfacing might be an affordable option for you.

If our team finds structural damage to your deck, such as boards that are warped or split, these can sometimes be repaired but not all the time. Our technicians will inspect your old deck and let you know if they think resurfacing is an option for you.

Sometimes, if the damage is only minor, we can make the repairs and resurface it once the repairs are complete. We give you many choices and options so that you can choose one that fits your needs and budget.
6Should I choose who composite or wood decking material?
Both composite and wood decking has advantages and disadvantages. A composite deck usually costs a little more than wood, depending on the wood that you choose. It also has a longer life, which means you will not have to replace it as often. Composite decking also has lower maintenance. Despite its advantages, many people like the look of natural wood. It all depends on your preferences, the style of your home, and the type of design you would like.