Innovative Idea for a Custom Romeoville Deck
Romeoville, IL, is a quiet Chicagoland suburb located about 25 minutes southwest of downtown. It sits on the edge of the Gateway wetlands and was one of the last areas to be occupied by Native Americans. Now, it is a suburban community where many families make their homes. It is a community ripe with industry and home to over 600 businesses, including giants like Amazon and Green Core. It has plenty to do, such as craft breweries and Mistwood Golf Club. Families can enjoy racing fun at the Scene75 Entertainment Center. After a day of work or play, Romeoville residents like to spend time enjoying life on their backyard deck by Wolf Spirit Deck.
New Ideas for a Deck in Your Romeoville Backyard
When you think of a deck, traditionally, you think of a platform attached to the house, but now, designers are expanding this idea to include everything from rooftop decks to building a custom space for a sauna or jacuzzi. You can ask your deck builder to include a pergola over a section or place one section under a roof. Another popular way to include a deck in your backyard is to put one around a pool. In many of these cases, composite deck material is perfect because it is low maintenance and will not cause splinters in your feet.
Customization is the key, and you can go beyond the standard deck with boards laid in a single direction. One of the more popular trends is including a parquet floor design that gives it an upscale feel. Decks with "rooms" on multiple levels are another option people are choosing to enhance the architecture of their homes and to make their deck a multipurpose space.
Deck Accessories Create a Cozy Gathering Space at Your Romeoville Home
One of the main reasons why many choose to put a wood deck on their Romeoville home in the first place is to have a space for gatherings and entertainment. Including garden structures, such as trellises and planters gives you a way to extend the garden space to the deck. It creates a unified look rather than having a separate space for the deck and the rest of the backyard garden.
You can include custom built-in seating or a bar. The right lighting can transform your Romeoville space into an outdoor oasis where you can enjoy the company of friends and family. Why not add a swing to the deck or a few art pieces? If you are building a new deck in Romeoville, the possibilities are endless. If you have a deck that needs a refresh, you might want to consider deck resurfacing as a less expensive option to building a new one. While you are giving it an upgrade is the perfect time to include a few extra amenities and turn it into a space you will enjoy even more.
Find a Romeoville Deck Contractor You Can Trust
Wolf Spirit Deck loves transforming Romeoville backyards into the ultimate spaces for relaxation and entertainment. Our team has over 10 years of experience helping residents create the ultimate backyard oasis. We can help you design a new deck, or we can help you restore your existing one with services that include deck resurfacing or painting. If you need deck repair, we can help restore your deck to like new condition. Contact our deck professionals, so we can get started building your backyard dreams.
Discover Decks… Discover Wolf Spirit Deck
---
Tell us a little about project and we will be in touch with you promptly.
Wolf Spirit Deck
14447 Independence Dr
Plainfield, Illinois 60544
Tel: (312) 765-3998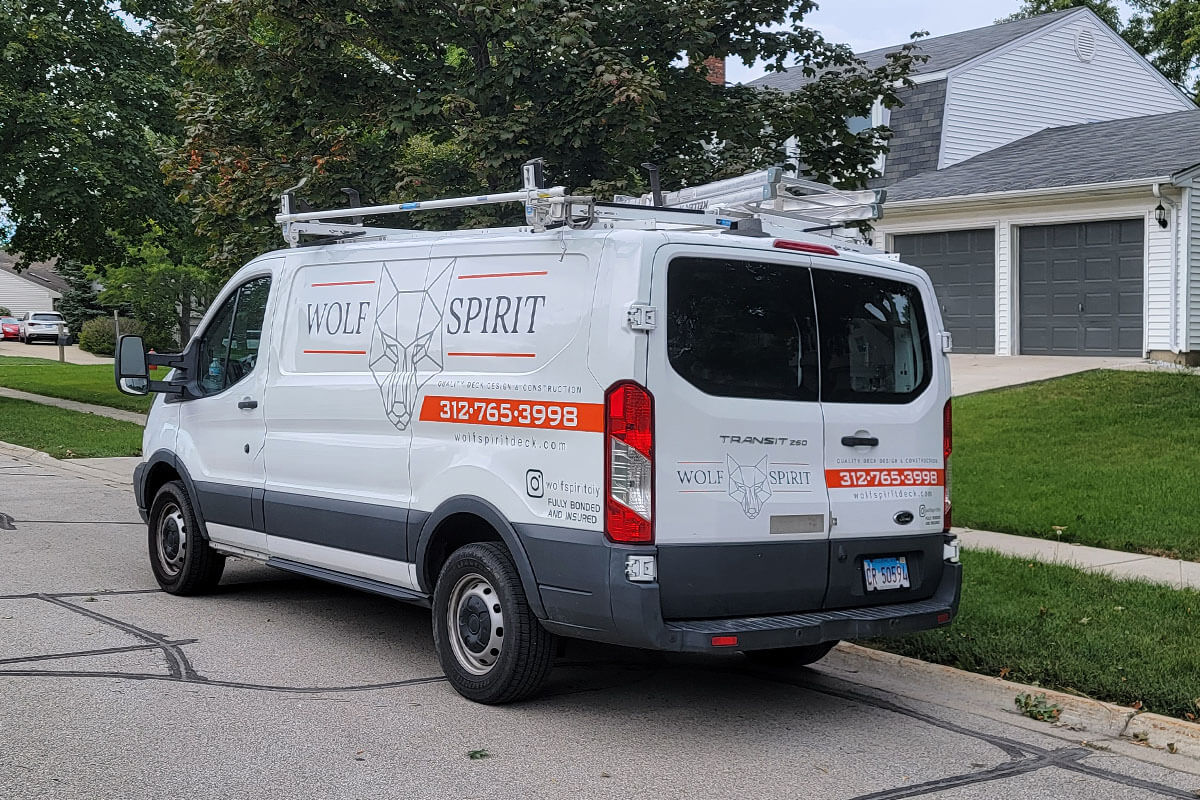 Send Us a Message
---
We would love to hear about your project! Whether it's a new custom-built composite deck, new wooden deck, pergola, or deck resurfacing as a custom deck builder and luxury deck lighting specialist, we eagerly await the opportunity to collaborate with you on your exciting project!