The Village of Homer Glen, IL, is about 30 minutes southwest of downtown Chicago. The area is home to many parks and athletic clubs, including the Homer Glen Heroes Trail. Residents enjoy an active life and are only a short drive from all that Chicagoland has to offer. Sports fans enjoy watching and playing games with the Homer Stallions Football and Lacrosse teams, Homer Heat Baseball, and Illinois Crush baseball. After a day of enjoying their favorite sports and sports teams, a backyard deck is the perfect place to relax and unwind. Wolf Spirit Deck is a trusted deck builder in the area with an experienced design and construction team. Now, you can take advantage of several new trends in backyard decks to transform them into the ultimate space for entertaining.
New Trends in Homer Glen Backyard Deck Entertaining
Whether you choose a wooden deck or composite deck, today's trends emphasize transforming the space into a place for entertaining. You now have many options that will make your Homer Glen deck the ultimate space for enjoying family and friends.
Make Your Homer Glen Deck Perfect for Gatherings
One of the latest Homer Glen trends in deck design is decks with multiple levels. Instead of one big, open space, you create smaller, more intimate spaces for conversation. You can separate the areas by level. You can also cover an area with a pergola and designate a place for an outdoor sofa and a few chairs around a fireplace.
You might want to think about an outdoor kitchen with a space for dining that is separated from the bar and main entertainment area. Do you have a few friends who perform? Why not create a stage for a private performance? You can also include an outdoor fireplace or chiminea so that you can get warm and cozy on chilly Homer Glen nights as you watch your favorite team.
Transform Your Homer Glen Deck Into the Ultimate Entertainment Space
There is nothing that says an entertainment area must be on the inside of your Homer Glen home. You can transform your outdoor space into the ultimate space for watching the pros play on the big screen or hosting a "tailgate" party on your back deck. You can even reserve a space for a game of cornhole.
You also have a wide range of deck lighting options available from recessed lighting to soft lighting that lets you enjoy just enough light, but not enough to block the stars. You can choose from a composite deck that looks like real wood, or you can choose a traditional wooden deck. Maybe all you need is deck resurfacing to restore your existing deck to its entertainment-ready state. If you choose deck resurfacing, you can always add a few planters or benches to upgrade the space and make it ready for guests.
Find a Homer Glen Deck Contractor You Can Trust
Wolf Spirit Deck has been making Chicago area residents' dreams come true for over 18 years when our founder was inspired to start his own company after eight years in the business. Our team is experienced and professional. We treat you the way we would expect to be treated if the roles were reversed. We will listen to your dreams, and then, help you turn them into a reality. We have been helping Homer Glen and Chicagoland homeowners get the most from their decks, and we are ready to help you with the same fast, reliable service. Contact our Homer Glen Deck design professionals and we will help you get started making your backyard entertaining dreams a reality.
Discover Decks… Discover Wolf Spirit Deck
---
Tell us a little about project and we will be in touch with you promptly.
Wolf Spirit Deck
14447 Independence Dr
Plainfield, Illinois 60544
Tel: (312) 765-3998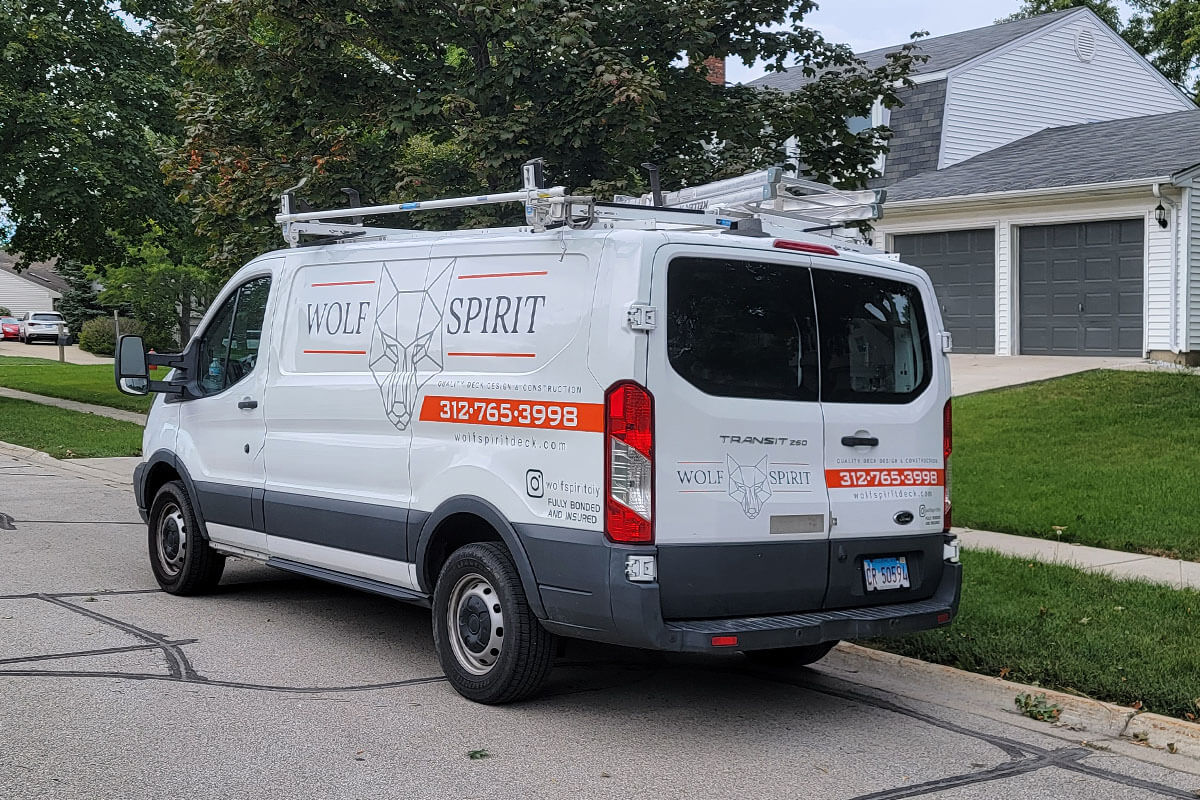 Send Us a Message
---
We would love to hear about your project! Whether it's a new custom-built composite deck, new wooden deck, pergola, or deck resurfacing as a custom deck builder and luxury deck lighting specialist, we eagerly await the opportunity to collaborate with you on your exciting project!