Bartlett, IL is a Chicago quiet suburb that is known for its shopping opportunities, fine dining, and cultural activities. It was originally a transportation center and is now home to over 30 Fortune 500 companies. Many people drive about 30 minutes to Chicago for work and then return to spend their quiet evenings in Bartlett. It features an Aquatic Center, James Pate Philip State Park, and plenty of other nature preserves and parks. After a day of enjoying everything, this town has to offer, many love to enjoy the evening on their backyard decks. Here are a few of the latest trends when it comes to deck design.
Adding a Hot Tub to Your Deck
Adding a hot tub to your deck lets you get the most from spending time relaxing. Composite deck material is a popular choice for adding a hot tub because it is more resistant to water damage. You can ask your deck contractor about what it would take to add a hot tub, so you can truly relax after a day of activity. You can also add plenty of seating for guests and entertaining.
Designate Special Activity Zones
If you have a family that likes to do different activities on the deck, you might want to consider designating zones. For instance, you can have a space for dining, or a fire pit. You could also consider a few children's areas. If you have a wooden deck, you might want to consider deck resurfacing to restore it and get it ready for entertainment.
Upgrading Your Deck Railings
The deck railings are something that you might not think about often, but they are one upgrade that can make your deck stand out. Many new materials are available, such as metal balusters or weather-resistant PVC. You might want to choose a contrasting color to make it pop. You can choose options that match the architecture of your home, which can add curb appeal and value.
Add a Deck Skirting
The area under your deck can be an eyesore, but deck skirting can give it a finished look. Deck skirting also helps keep animals from making their home under your deck. It also provides an excellent backdrop for landscaping to spruce it up a bit. You are no longer only limited to latticework. You can choose screens or weather-resistant plexiglass. Solid skirting can help transform it into an additional storage area.
Use Mixed Materials Around Your Deck
One trend that is gaining ground this year is using mixed materials. You can choose from slate, stone, brick, composite, and wood. You can also combine a few of your favorites for a custom look. This option gives you almost endless design possibilities for building an area where you love to spend time. You can choose mixed flooring to designate areas or make an outdoor kitchen stand out.
Find a Bartlett Deck Builder You Can Trust
Wolf Spirit Decks is a deck builder serving the Bartlett and Chicagoland area. We can build new decks, deck resurfacing, build pergolas, and other services. Our goal is to help you make your backyard dreams a reality. Our team has over a decade of experience and is committed to only using the best materials and construction methods. Contact us, and our team will listen to your ideas and help you get the most from your new or restored deck.
Discover Decks… Discover Wolf Spirit Deck
---
Tell us a little about project and we will be in touch with you promptly.
Wolf Spirit Deck
14447 Independence Dr
Plainfield, Illinois 60544
Tel: (312) 765-3998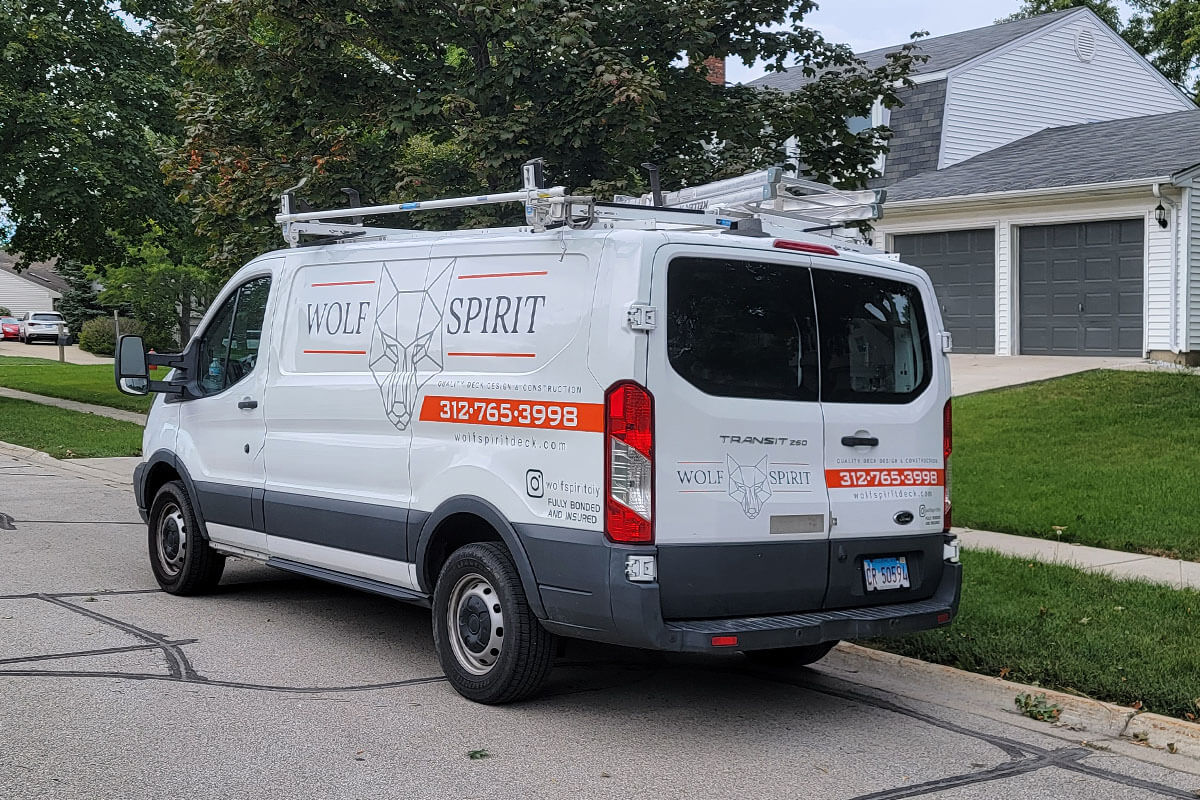 Send Us a Message
---
We would love to hear about your project! Whether it's a new custom-built composite deck, new wooden deck, pergola, or deck resurfacing as a custom deck builder and luxury deck lighting specialist, we eagerly await the opportunity to collaborate with you on your exciting project!